Denne begivenhed er allerede afholdt.
Aarhus Byttemarked
oktober 20 @ 10:00

-

14:00

Gratis
Begivenhed Navigation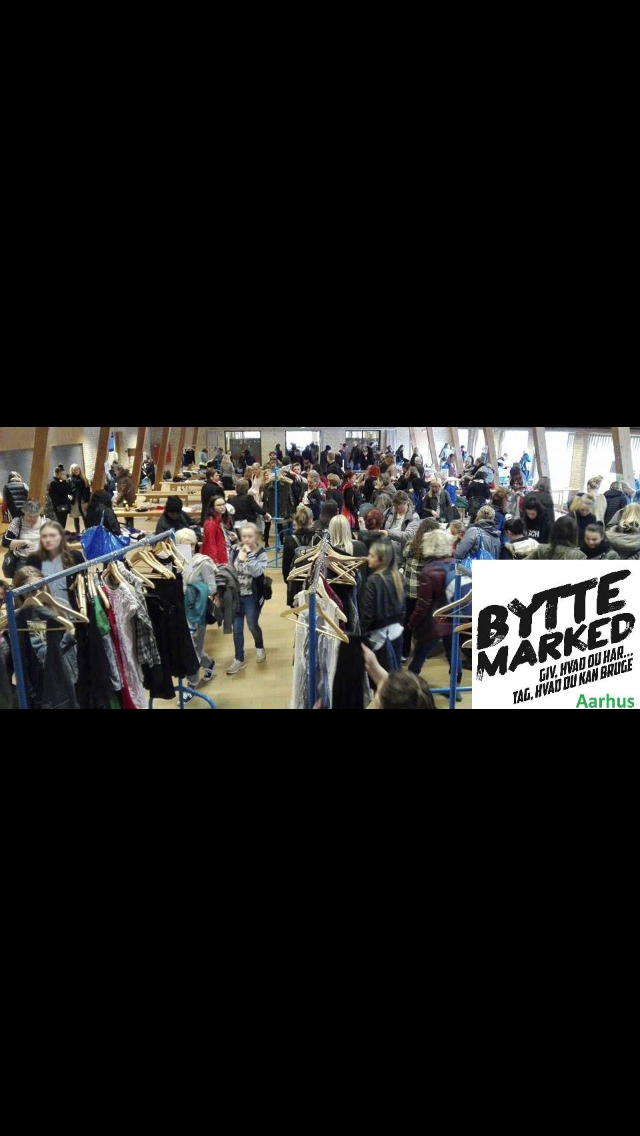 (ENGLISH BELOW!)
Så er det tid til at lave en efterårsoprydning!
Hvad har du ikke fået brugt det sidste år?
Hvad har du købt og aldrig fået brugt?
Er det ikke på tide at de ting får nyt liv i nye hænder?
Så er vi klar med endnu et byttemarked. Endnu en gang i glædeligt samarbejde med Studenterhus Aarhus. Markedet finder sted Lørdag d. 20. oktober fra 10.00-14.00.
Kom forbi markedet og se om det være, at du finder det som du lige står og mangler, kom af med de ting du ikke selv bruger mere, som alligevel står og fylder, undgå unødvendig spild ved, at give det til byttemarkedet – og så er det som altid ganske GRATIS!
Vi mangler frivillige til markedet, så har du lyst til at blive en del af vores helt fantastiske bytteteam, så send en besked til os her på Facebook eller på vores mail: Byttemarkedaarhus@gmail.com, så vil vi være klar til at byde dig velkommen til teamet..
Hvis du ikke har været på et byttemarked før, så læs her hvad konceptet går ud på:
HVORDAN DELTAGER DU?
1. Du medbringer en eller flere ting som stadig har god værdi, men du ikke bruger mere
2. Du "overdrager" dine ting til byttemarkedet
3. Du finder selv noget som du mægtig gerne vil have med hjem
Så nemt er det!
OBS!! Husk: Tag kun til egen hustands forbrug 😉
Hvis vi oplever gæster, der ikke overholder vores retningslinjer omkring god bytteskik, vil de blive bedt om at forlade eventet.
Læs retningslinjerne nedenfor.
HVAD ER ET BYTTEMARKED?
Et socialt og kulturelt event, hvor vi bytter til nyt. Kom af med det, du ikke længere bruger, og få noget med hjem du kan få glæde af. Du medbringer tøj, køkkenudstyr, gamle bøger, DVD'er, legetøj, sko, møbler og meget mere, som du kan aflevere. Dernæst kan du på jagt i andres medbragte skatte og tage det med hjem du ønsker – gratis.
HVORFOR BYTTEMARKEDER?
Har du nogensinde tænkt over hvor meget du ejer, som du ikke bruger mere, og som nok bliver smidt ud næste gang du rydder op? Vi har alle mange ting liggende i skuffer, skabe, kældre eller på lofter, som vi ikke længere bruger eller er blot er blevet trætte af.
HVORFOR OVERHOVEDET?
En dansker producerer mere end 600 kilo affald om året og det er voksende! Det svarer til vægten på en bil. Dertil smider vi næsten 150 kilo storskrald ud om året per indbygger. Ofte er det ting som sagtens kan genbruges, men det kan virke nemmere at smide det ud. Udover alle de kilo, er der det skjulte ressourceforbrug. Når du køber en ny t-shirt har du allerede smidt 1,6 kg materialer ud og brugt mere end 100 liter vand. For mobiltelefoner og fladskærms-tv er det endnu mere. Det kan du undgå ved at genbruge så meget som muligt.
RETNINGSLINJER VED BYTTEMARKED AARHUS:
Vi ønsker at der ved alle vores markeder forefindes *God Bytteskik'.
1: Medbring kun ting der har en brugbar værdi.
2: Giv vores frivillige plads tid og plads til at udføre deres arbejde; Vi er godt klar over at de kommer med nye spændende ting, men det er overvældene hvis man kommer og vil have tingene ud af armene på dem. Tingene skal nok nå ud til gæsterne.
3: Alt er gratis og vi har endnu ikke, som stort set den eneste by indført klippekort ordninger el. lign. fordi vi synes at alle skal kunne være med, uanset hvad de kan bidrage med. Men det forbliver kun således hvis alle husker kun at tage til egen hustands forbrug.
Det er vigtigt for os alle får en god oplevelse ved markederne, så vær derfor opmærksom på at du bidrager til dette ved fx ikke at skubbe til andre for at komme først, men tag det stille og roligt og giv plads til den næste ved siden af dig.
Læs meget mere på vores facebookside: https://www.facebook.com/byttemarkedaarhus
English:
Its that time a year- out with the old and in with the new!
Byttemarked Aarhus is coming with yet another swap market!
Saturday, October 20th, from 10:00-14:00 at Studenterhus Aarhus, at Aarhus University.
Our swap markets are 100% volunteer-run, and to make our upcoming swap a success, we need the help of some helping hands.
We're looking for volunteers to help out on the day of the Swap Market.
Volunteers are the secret to a good swap, and our volunteers are always very positive about the experience.
If you are interested in signing up, or if you have any questions, please contact us at Byttemarkedaarhus@gmail.com or sent us a message here om facebook.
Never been to a Swap Market before?
If you are interested in signing up, or if you have any questions, please contact us at Byttemarkedaarhus@gmail.com or sent us a message here om Facebook.
WHAT IS A SWAPPING MARKET?
"Give what you have, take what you want" That is the motto behind the swapping markets. They are social and cultural events where we swap with each other, mainly organized by ordinary citizens. A Swapping market is always 100% free, so leave the wallet at home!
WHAT HAPPENS IN A SWAPPING MARKET?
You bring your clothes, kitchen utensils, old books, DVDs, toys, shoes, furniture and much more that you don't want anymore and swap them into something you need and want instead.. You can help give new life to the items that your fellow citizens would like to have.
WHY SWAPPING MARKETS?
What if all the things we own but never use anymore, can get a NEW life for the benefit of the enjoyment of others, the environment and yourself?
Have you ever wondered how much you own that you no longer use, which probably gets kicked out next time you clean up? We all have many things lying in drawers, closets, basements or attics, which we no longer use or have simply grown tired of.
THEREFORE: COME TO THE SWAPPING MARKET AND HAVE FUN WITH YOUR FELLOW CITIZENS!