Denne begivenhed er allerede afholdt.
KBH NV Byttemarked
Begivenhed Navigation
Gudstjeneste med højmesse fra 11-12
Byttemarked fra 12-15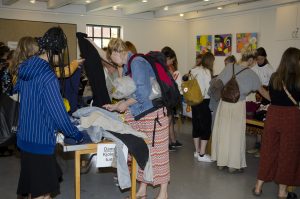 Ansgarkirken på Mågevej inviterer til gudstjeneste fra kl. 11.00 til 12.00 og byttemarked fra kl. 12.00 til 15.00
*NB. Husk lidt kontanter til kaffe og kage 🙂 MobilePay er også en mulighed. Overskuddet går til Solens Børn.
/// English below
GIV HVAD DU HAR – TAG HVAD DU KAN BRUGE
Giv dit aflagte tøj og ting, der stadig er i fin stand, og tag hvad du kan bruge af andres medbragte sager – gratis!
HVORDAN BYTTER MAN?
1. Medbring ting og tøj i god stand (dog ikke store ting som møbler og billedrør tv)
2. Fordel selv dine ting efter kategorier på bordene
3. Gå på opdagelse og tag hvad du kan brug
4. Overskuddet af ting bliver doneret til Danmission.
Læs mere om hvordan det foregår her: http://www.byttemarked.nu/hvad-er-et-byttemarked/faq/
FIND VEJ
Tag bus 5A til Mågevej eller 350S til Hulgårds Plads. Gå ned af Mågevej, find kirken der ligger i nummer 33, gå ind ad hovedindgangen.
_______________________________________________
/// ENGLISH:
Ansgar Church, Mågevej inviteres to Service at 11.00 AM to 12.00 AM and Swop marked from 12.00 AM to 3 PM
GIVE WHAT YOU HAVE – TAKE WHAT YOU NEED
Give away your used clothes and things, that are still in a good condition, and take what you need from the stuff other people brought – for free!
HOW DO YOU SWAP?
1. Bring things and clothes in good condition (no big things like furniture, though).
2. Put your things on tables, marked with categories.
3. Find and take things from the market.
4. Leftovers will be donated to charity.
Learn more about swap markets here: http://www.byttemarked.nu/hvad-er-et-byttemarked/faq/
FIND YOUR WAY
Take bus 5A to Mågevej or 350S to Hulgårds Plads. Go down at Mågevej till you find the Church in number 33, find the main enterence.