Denne begivenhed er allerede afholdt.
Aarhus Forårs Byttemarked / Spring Swap market
15. marts 2015 @ 12:00

-

16:00

Gratis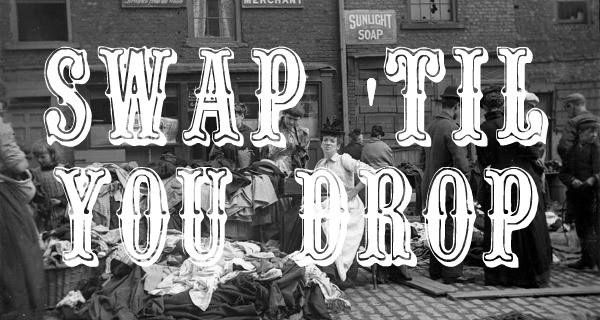 Medbring tøj, sko og andre ejendele du ikke længere bruger og doner på markedet. Find andre ting du hellere vil have, og planeten vil takke dig.
Hvert år bliver der smidt omkring 5.8 millioner tons tekstiler ud alene i Europa. Ved at genbruge tøj er vi med til at nedsætte mængden af affald der bliver brændt eller sendt på lossepladsen, og sætte fokus på vigtigheden af at tænke over, hvor og hvordan vores tøj bliver produceret.
– – – – – – – – – – – –
WASTE NOT, WANT NOT! Bring your old clothes, shoes or other belongings you simply got bored of! Take some others' in return, and the planet will thank you!
Did you know that solely in Europe, about 5.8 million tonnes of textiles are discarded each year? By reusing old clothes, we are reducing the amount of waste going to landfill and highlighting the importance of considering how and where our clothes are made.
HOW DOES IT WORK?
You bring your old stuff (not your couch or anything heavy, please!) at the beginning of the event and you hand it to our volunteers. While we take care of everything we invite you to drink some tea and eat some cooked veggies. We're pleased to announce that Boris has offered to cook some food for the event.
You get crazy at the sight of so many awesome clothes and run to save them from the landfill! You can take as many as you'd like without having to feel guilty for only bringing two. Or you can just make some space in your wardrobe and decide to go minimal this time. You are welcome to try them on in the nearby bathroom (or just on spot, if you're not shy!).
The remaining things will be donated to the charity shops in the neighbourhood.
DON'T FORGET TO INVITE YOUR FRIENDS!